Whisky journey
With the Flying Dutchman we make a journey through the Hebrides. We visit the most famous whisky distilleries. Our tour starts with a visit to the Oban Distillery and proceeds to Jura. The Jura distillery,  is one of the most appealing distilleries, which is so remote that visitors have free access. And of course, the ultimate Islay Whisky paradise with its 11 Whisky distilleries. We also visit Campbeltown, with the unique Springbank distillery. In short: an exciting Whisky journey through an fantastic area.
Boarding: Oban  1 October, 2017  
Disembarkation: Oban 7 October, 2017
Prices:
We have classified the cabins into two categories. Price based on shared cabin.
Our cabins are all with shower and toilet.
Standard cabin …………. € 985, –
Standard plus …………    € 1285, –
Single supplement ….     € 450, –
Included:
Half board.
Based on shared cabin with shower and WC
Crew consisting of Captain Quartermaster-Cook.
All walks guidance use zodiacs for landings.
Not included:
And departure to the ship
excluding drinks
any additional entrance fees and refreshments.
We sail with an international tour group aboard. Although the crew is Dutch, English is the official language on board. Our guests come from the Netherlands, Switzerland, England, Germany and Scotland.
For questions call Klaas: 06- 53231627
Day 1: Oban
Arrival: You arrive in Oban, a charming fishing village located in a beautiful bay. If you arrive early, you can leave your luggage on board. This gives you time to visit Oban and maybe one of the many cozy pubs. From 18:00 you will be welcomed by the crew on board. You will be introduced to the crew and your fellow passengers. Around 19.00 we will have is a full dinner and a little whiskey tasting, so we can raise a glass on a beautiful journey.
Day 2: Oban & Crinan
After a good breakfast we will make a tour of the Oban Whisky distillery. Here they give a fun, interesting and clear tour. You can see barrels with a capacity of 35,000 liters and at the end there is possibility to taste (and buy).
in the afternoon we leave Oban and sail towards Crinan. Crinan is a very small and beautiful spot, were we moor in the lock. which gives access to the Crinan Canal. A unique experience.
Day 3: Jura
Today, on our beautiful Whisky journey, we move on to the Isle of Jura. The island of Jura is a paradise of pristine wilderness and natural beauty. The name Jurassic comes from Norwegian and means "Deer Island". It is still an appropriate name, with the 5,500 deer. The human population exceeds 180. Lovers of wild nature, will spot over 100 species of birds, golden eagles, as well as goats, seals, rabbits, hares, stoats and otters. You can take a trip to the secluded farm Banhill, 37 kilometers north of Craig House. That is where the writer George Orwell in the forties of the last century wrote his masterpiece '1984.  He described it very precisely as "an extremely inaccessible place."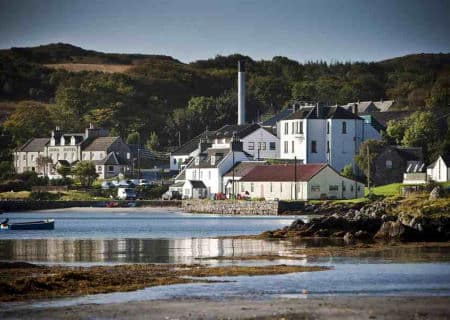 Day 4 & 5 : Islay
We continue our Whisky journey and sail to Islay, the whisky island par excellence. Islay owes its fame to the nine distilleries that produce millions of gallons of liquid gold. Because of the various taxes that are levied on alcohol, it is said that this is the most heavily loaded part of Great Britain.
We visit here many distilleries, where the ship goes from one to another distillery. Some distilleries often have their own jetty.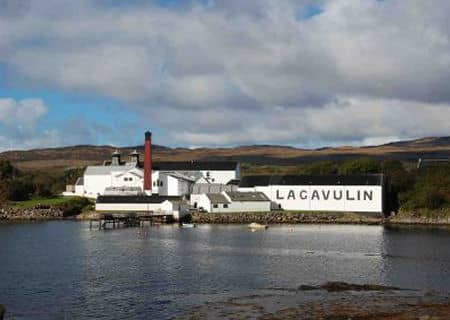 Day 6: Campbletown
Today we sail to  Kintyre, in West Loch Tarbert. We take  the bus to Campbeltown, and have a nice impression of the island. In the past it was an important area where a lot of whiskey was fired. At one time there were 34 different distilleries, and it was called "Whisky Capital of the World".  Now there are only three distilleries in Campbeltown: the old Glen Scotia, the new Glengyle and internationally known and acclaimed Springbank distillery. We can visit them all.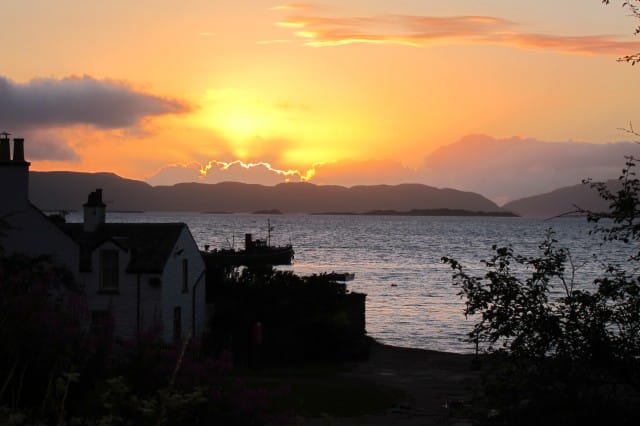 Day 7: West Coast
This day is a beautiful day for sailing back to Oban. We can enjoy the unspoilt, wild nature of the islands off the Scottish west coast. The rugged beauty of Jura, the silence on the water, the indescribable scenery,  We see surprising coves, quiet fishing villages and the magnificent sight of the islands in the distance.
Day 8: Oban
Unfortunately, our beautiful Whisky journey has come to an end. After a good breakfast, it is time to say goodbye.
Note: The program is a guideline and may be modified under the influence of weather, currents and wind. Flexibility is the rule on this trip.