7 to 14 October 2018
A beautiful Scotland journey through the Caledonian Canal, that connects the North Sea with the Atlantic Ocean. It is one of the most beautiful waterways in the world. We start in Oban and sail along the west coast. From Fort William we will go straight through the mountains of the Scottish Highlands to Inverness. It offers beautiful landscapes and views. Four mountain lakes, of which Loch Ness is most famous, but Loch Lochy, Loch Oich, and Loch Douchfour are also beautiful. They were connected with each other in 1822.
Embark:………… Oban, 7 October, 2018
Disembark:….    Inverness, 14 October, 2018
Prices:
Because our two-person cabins have different sizes, there are  two categories.
Standard cabin  ………….  €  885,-
Standard plus……………    €  985,-
Surcharge single use……  €  300,-
Included:
– Based on a two-person cabin with shower and toilet, towels, linen
– Crew consisting of: Captain-Steersman-Chef.
– Use of Zodiac for landings.
– Half board including coffee-tea-milk and juice with meals.
Half board on this journey is sometimes three- sometimes two meals, and sometimes only breakfast. This gives you the freedom to discover the local specialties on land.
Not included:
– Travel from and to the ship
– Personal spending
– Possible additional entrance fees and drinks
– Drinks on board
We travel with an international tour group on board. Although the crew is Dutch, the language spoken on board is English. Our guests are from the Netherlands, Switzerland, England, Germany, and Scotland.
Possible travel itinerary: The indicated programme is a guideline and can be modified under the influence of the weather, currents, and wind. Flexibility is a part of this trip.
 Travel information:  If you have any questions, call Klaas : 06 53231627
Day 1: Oban
On this beautiful Scotland journey, we like to welcome you in Oban. Once you've embarked, you can meet the other participants and the crew. Around 19.00 we will have dinner and raise our glasses to a beautiful journey. The image of Oban is largely determined by McCaig's Tower, a replica of the Coliseum. Oban once was a small fishing village with a sheltered harbour, but with the coming of a steamship and a railroad in 1880, Oban became the centre for sailings to the Inner and Outer Hebrides. Oban is used as the setting for many movies, such as 'Ring of Bright Water' and 'Morven Callar'. Jules Verne also uses Oban in his book 'The Green Ray'.
 Day 2: Mull, Tobermory
The crossing to Mull is quite short, since the island is right next to Oban. Mull, Gaelic for cliff or hill, is the third island of West-Scotland and is about 48 km long and 32 km wide. The island was once a Viking stronghold and they plundered it in the year 1100. We moor in Graignure and from there, we will visit the beautifully renovated Duart Castle. After our walk and visit, we sail on and tie up in the picturesque fishing village of Tobermory.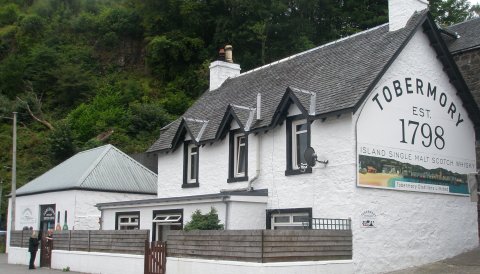 Day 3: Fort William
After a nice breakfast, we continue our Scotland journey and set sail for Fort William. We sail along the beautiful West Coast where the space and the views on the isle of Mull show us the beauties of unspoilt Scotland. We go through the sea lock at Corpach; the entrance to the Caledonian Canal. You will have the opportunity to visit Ben Nevis or Fort William.
Day 4: Caladonian Canal
Today, we go to the to the famous Neptune's Staircase, which are 8 locks in a row. We always attract a lot of attention, because we are one of the biggest ships that can go through the Canal and the locks. After the locks, we arrive in a fairy tale part of the canal with some little lakes now and then, but sometimes also very narrow, with high rising trees in autumn colours.
We sail to mesmerising lakes Loch Lochy, Loch Oich and Loch Dochfour. And if it's possible, we will set sail upwards and let the wind take us over the magnificent lakes. Enjoy the tranquility of the water and the beautiful landscape that floats by. Watch the amazing skies and views. At the end of the day, we moor in the middle of the Highlands.
Dag 5: Fort Augusta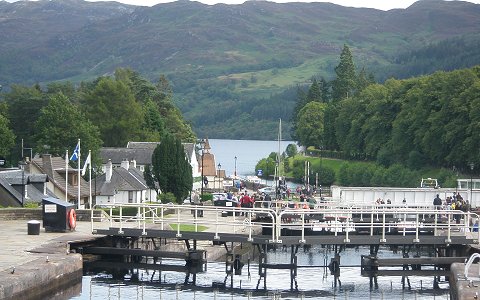 After breakfast and maybe a nice walk, we continue to sail the beautiful lakes. We stop again before lunch, so we can explore the surroundings. After a beautiful day with many photo moments, we arrive at Fort Augusta. There is a possibility to visit a cosy pub here.
Day 6: Loch Ness
Our beautiful Scotland journey  will go today through 6 locks to get to the famous Loch Ness. We might even see Nessie. Monster or not, it's a wonderful trip through Scotland in a breathtaking environment.
Day 7: Inverness
This last day of our Scotland journey, we sail to Inverness.  We have traveled straight through Scotland from west to east. Inverness is a cosy city with authentic bars, where we will enjoy the traditional Scottish music at night.
Day 8: Goodbye
After a good breakfast, it is time to say goodbye. This Scotland journey, was a breathtaking and beautiful experience.